Despite commonly covering faces with masks, some Americans are increasingly investing in teeth whitening. Oral hygiene brand SmileDirectClub saw a 47 percent increase in sales of teeth whitening products during the first half of 2021.
Maybe it's coffee and red wine that's drawing your attention to teeth whiteners or perhaps you've skipped a few cleanings given Covid-related closures — regardless, there are at-home products that can help you improve the appearance of yellow teeth. At-home whitening kits, gels and even toothpaste are common fares in the hygiene isles of big-box stores like Target, Walmart, CVS and Walgreens.
But are teeth whiteners safe and effective? And which ones should you get? To figure it out, we asked dentists how teeth whiteners work and how to find the right at-home teeth whiteners for you.
SKIP AHEAD Top-rated teeth whiteners
Teeth whitening is typically safe but some at-home products can cause gum pain and tooth sensitivity — visiting the dentist to determine whether whitening is a viable path for you is advisable if you've experienced those effects (or think you might). Dentist Ben Elchami, DMD, of walk-in dental office DntlBar, explained that some users may not be able to handle higher concentrations of whitening agents and that a dental professional can help them find a product that works for them.
In addition, beware of beauty "fads" or do-it-yourself approaches to teeth whitening, which can have negative side effects like reducing teeth hardness or increasing their sensitivity. A common example is using charcoal toothpastes — the abrasiveness of the ingredients can actually remove the enamel from your teeth — "like sanding a floor," said dentist and American Dentistry Association (ADA) spokesperson Matt Messina, DDS.. Last fall, TikTokers even began filing down their teeth enamel, which can cause "irreversible harm," dentist Tricia Quartey-Sagaille previously told TODAY.
The most recent 2017 study published in the Journal of American Dental Association found no sufficient evidence that charcoal can improve tooth color or boost health — in fact, the study found increased cavities and enamel erosion in some cases.
Are teeth whiteners effective?
At-home teeth whitening kits can definitely be effective, depending on the severity of tooth stains and oral sensitivity. Teeth stains occur on both the surface and inside of the tooth, and can be caused by many things, including:
Certain foods and drinks, including coffee, red wine, dark soda and specific fruits like blueberries
Tobacco use
Poor oral hygiene, including inadequate brushing and flossing
Teeth whitening products can remove some — but definitely not all — stains, said Messina. Cavities or tooth decay may make teeth turn a dark gray color which won't go away with at-home whitening, he noted. The same goes for other oral problems like plaque build-up or gum irritation.
"You need healthy teeth and gums before you even think about whitening," said Messina. "It's not all about color — that's just one part of the overall picture."
If you're unsure about discoloration of your teeth, check with your dentist first to figure out the underlying problem and make sure you're a candidate for teeth whitening. Some issues, like plaque, can be removed via regular professional cleanings at a dentist's office. Others can be solved by whitening.
Finding the best teeth whitening product for you
The most powerful whitener may not be the best option for you, said Messina. When shopping, look for products with the ADA's stamp of approval, which indicates the product has been independently tested in the ADA's own clinics and laboratories for safety and efficiency and is approved by dental professionals. A product must adhere to the initial standards set by the ADA to earn the stamp, and needs to re-apply for approval every five years.
Most kits are used every seven to 10 days and then monthly or even annually for maintenance. Make sure to follow the instructions. Messina said it's not smart to ignore directions with the hopes of getting faster (or more dramatic) results.
"If it says 30 minutes, an hour isn't better," he said. "It may instead dramatically increase your tooth sensitivity, making it hard to handle cold things like ice cream or even water."
Start simple. Messina recommended trying a whitening toothpaste or strips first and working your way up in concentration. If at any point you notice sensitivity or irritable gums, stop what you're doing immediately and contact your dentist.
"Be honest with us," he said. "We've all been there. Your dentist is there to help you."
Top-rated teeth whiteners
Based on guidance we received from experts, here are some top-rated teeth whiteners on the market right now. Most of these options contain hydrogen peroxide, a common ingredient that helps to whiten teeth. More in-depth shopping guidance is below.
1. AuraGlow Teeth Whitening Pen
These whitening pens contain carbamide peroxide gel that's directly applied to the teeth, designed to break down surface stains from foods and drinks. Each pen contains enough gel for more than 15 treatments and applied up to twice daily. AuraGlow also sells a larger (and more expensive) kit with a tray and LED light for a more intense at-home cleaning. The Teeth Whitening Pen garnered a 5-star average rating from nearly 3,070 reviews on AuraGlow.
These popular strips come in boxes of 28, and are stuck and left directly on your teeth for 30 minutes, once per day. Crest 3D White Strips contain a low concentration of hydrogen peroxide in order to gently whiten your teeth over time. The brand's 3D W boast an impressive 4.5-star average rating from more than 12,860 reviews on Amazon. Crest also sells trays with LED light for more powerful whitening.
3. Colgate Optic White Teeth Advanced LED Whitening
Another popular brand, Colgate's whitening kit comes with a blue LED mouth tray, charging case and 20 whitening gel vials, made of 9-percent hydrogen peroxide. Users apply the kit 10 minutes a day for 10 days. The best part? The tray doesn't need to be plugged in during use, so you can do laundry, cook dinner or even work from home while whitening. Colgate's LED teeth whitener earned a 4.2-star average rating from nearly 300 reviews on Amazon.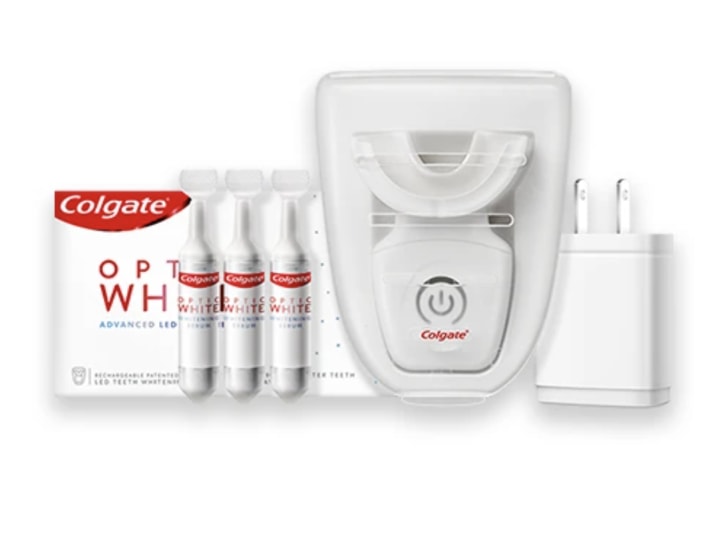 4. Glo Brilliant Teeth Whitening Kit
These whitening trays also use hydrogen peroxide gel and blue LED light trays, which the brand claims will help the whitening ingredient to more effectively remove staining. Users complete four back-to-back applications (for eight minutes each time) each day for five days. Each kit comes with a small brush to apply gel directly to teeth, helping avoid contact with the gums. The tray can plug directly into the wall. GLO earned a 4.3-star average rating from 80 reviews at GLO.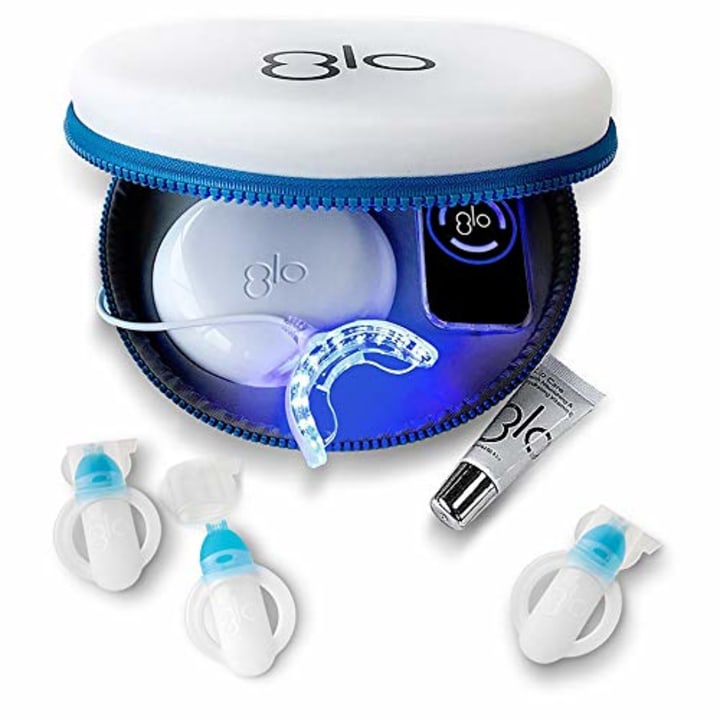 5. Moon Teeth Whitening Strips
Moon's strips come in packs of 56 and adhere directly to your teeth, dissolving after 15 minutes. Strips contain hydrogen peroxide and are peppermint flavored, leaving your breath fresh after use. The brand claims these strips can whiten your teeth up to seven shades within 14 days. Moon's Teeth Whitening Strips earned a 4.2-star average rating from nearly 50 reviews at Ulta.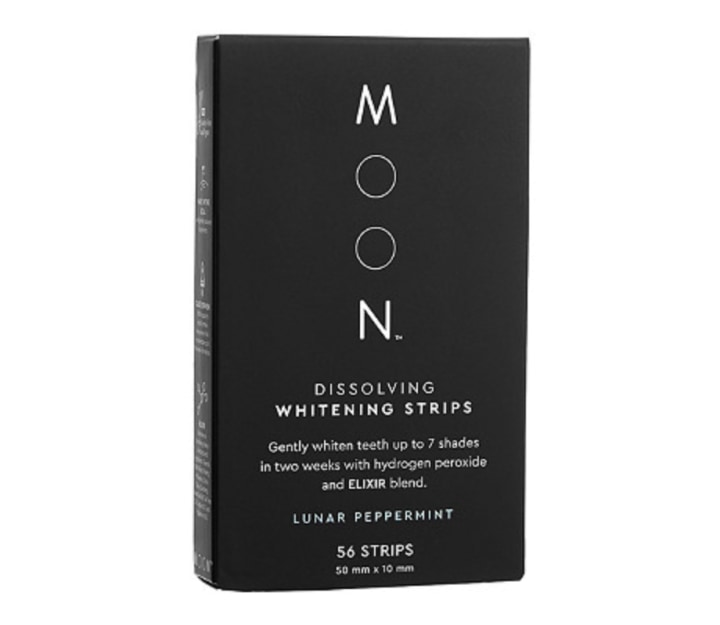 If your teeth are too sensitive for other types of whitening products, or you're looking for a daily product to maintain your smile, this whitening toothpaste is possibly right for you. This toothpaste is made for sensitive teeth, both gently whitening and protecting your teeth. The product also contains fluoride, which helps prevent cavities with each use. Sensodyne's toothpaste garnered a 4.7-star average rating from more than 340 reviews at Walmart.
7. Smile Direct Club Teeth Whitening Kit
The company known for their adjustment retainers offers a number of whitening products, including both pens and trays. SmileDirectClub'steeth whitening kit comes with enough gel for a year of whitening results, including eight pens and a tray with LED light attached for more effective whitening. Users can plug the tray directly into the wall or their smartphone — if you plan to whiten on the go. This kit received nearly a 5-star rating from almost 1,000 reviews at SmileDirectClub — the brand does not tally an average rating on its products.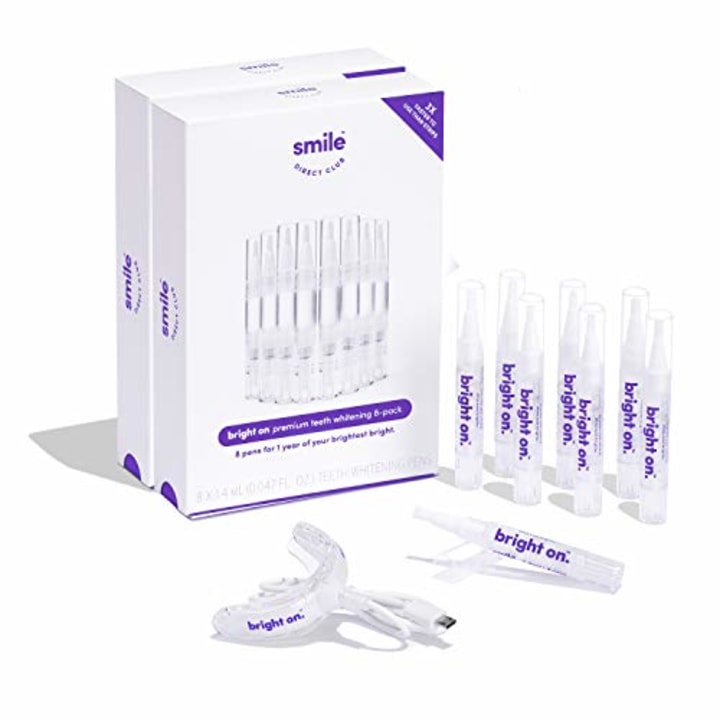 8. Spotlight Oral Care Teeth Whitening Strips
These whitening strip kits, created by a direct-to-consumer oral beauty startup, contain 28 strips for 14 treatments and one gum oil pen, designed to reduce gum sensitivity. Each strip has the active ingredient hydrogen peroxide and is applied once a day for two weeks, for an hour each time. The oral care company also sells whitening toothpaste for at-home maintenance.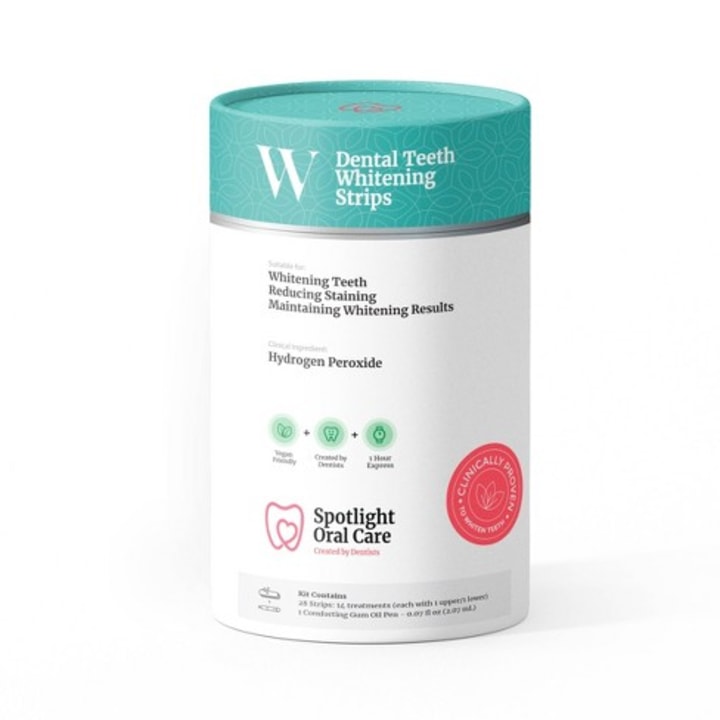 How teeth whitening works
Most teeth whiteners have an active ingredient, typically hydrogen peroxide or carbamide peroxide, which penetrates the enamel of your teeth and breaks down the discoloration without softening or thinning your teeth, explained Elchami. The difference between teeth whiteners is the concentration of those active ingredients.
The higher the concentration and longer the active ingredient is held against your teeth, the more effective the whitener typically is. In a dentist's office, a professionally trained dentist is able to use a high concentration of whitener while protecting your gums, making it the most effective (and often most expensive) way to achieve a whiter smile. If you'd rather whiten at home, Messina shared some of the common types of at-home whiteners.
Whitening toothpastes work best for surface stains and maintenance after you've used another form of whitening. Its effectiveness is lower than other types of whiteners, but it's helpful when combined with other kits, said Messina.
Whitening strips have a thin layer of hydrogen peroxide and are placed over the teeth for a set amount of time, then removed. They are typically more affordable but less effective than whitening gel, and are used in tray kits and dentists' offices.
Some kits come with custom trays that hold whitening gel. Users fill the tray with the gel and wear it for a couple hours. Whitening gels are stronger and more effective at whitening teeth than strips and achieve optimal results in around 10 to 20 days. Some dental offices will make custom trays that help users to achieve better results.
Some gel whiteners also use LED lights to help activate the whitening agent in the tray, explained Elchami.
Catch up on the latest from NBC News Shopping guides and recommendations and download the NBC News app for full coverage of the coronavirus outbreak.
https://www.nbcnews.com/select/shopping/best-home-teeth-whitening-products-ncna1253852