Toothache can come on suddenly and interfere with your activities. Almost everyone must have experienced it. Toothache is the sensation of pain or tenderness that is felt around the teeth. The cause of toothache or pain that you feel can come from several dental diseases itself.
Pain and tenderness in your teeth can occur if you don't take good care of your teeth and mouth. Although usually not causing serious problems, toothaches still need to be treated immediately. Vial Dermatology CRO can help you find a trusted clinic so you don't have to endure a toothache for a long time.
Why do your teeth hurt?
Pulp nerves that are irritated or infected by bacteria can be the cause of a painful toothache. Because the pulp nerves are the most sensitive nerves in this area of ​​the human body.
Toothache can also be caused by problems originating in other areas of the body. Toothache is usually not life threatening, but it can become a problem if not treated properly.
Common symptoms when a toothache
The pain in the tooth can last more than 15 seconds when there is a stimulus. If the symptoms of inflammation persist, the toothache can get worse. The pain can spread to the cheek, ear, or even jaw area.
Here are some symptoms of toothache that you need to be aware of, such as:
The pain is sharp and constant
Pain when chewing food
Teeth become more sensitive to cold or heat
There is bleeding around the teeth and gums
There is swelling in the gum area to the outside
Bad breath when there is an infection (halitosis)
Fever with headache
The causes of toothache and the accompanying symptoms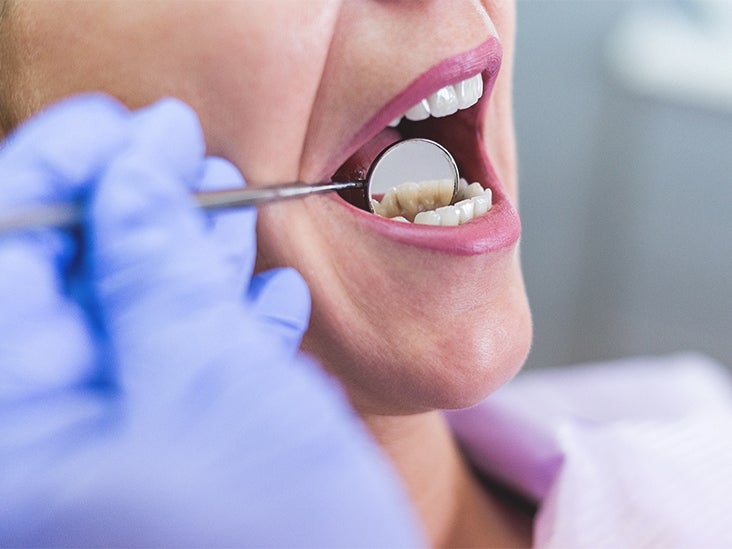 Signs or symptoms of aches and pains in teeth can be related to the cause of the toothache, for example tooth decay, gum disease, broken teeth, to redness in the area around the gums.
For more details, see the explanation of each symptom of the causes of toothache below.
1. Tooth decay
Tooth decay occurs due to erosion and formation of cavities on the outer surface (tooth enamel). When plaque builds up, it will produce acid which causes cavities in the teeth so that the tooth enamel is damaged.
If not treated, it will hurt, infection will occur, and even tooth loss. Toothache signs that you can feel are:
Teeth are more sensitive to hot or cold temperatures
Teeth feel painful to the touch
Decay spreads to the inside and middle of the tooth
2. Tooth sensitivity
Not everyone has sensitive teeth. This condition occurs when you feel pain as well as aching due to the dentin layer being exposed to cold or hot temperatures. Dentin is a channel filled with nerve fibers.
Some of the causes of pain due to sensitive teeth are:
Sweet foods and drinks
Food or drink that feels hot as well as cold.
Foods or drinks that are high in acid.
Brushing hard with the wrong technique.
Using mouthwash with alcohol content.
3.
…
Read More..